Dear Heart , Please Be Strong :')
Bila hati disakiti , tiada siapa yang mengetahui . Bila hati dilukai , tiada siapa yang peduli. Ya Allah , tabahkan hati aku . Sabarlah wahai hati , sesungguhnya dirimu sedang diuji . Sabar , sabar dan terus bersabar . Hanya itu yang dapat diucapkan oleh mulut tika hati sedang terluka . Hidup harus dijalani walau penuh dengan cabaran dan dugaan kerana tasnym tahu tasnym punyai Allah tempat tasnym bergantung dan mengadu .
Tapi
kadang-kadang tasnym berharap sangat agar tasnym boleh hilang untuk seketika supaya tasnym boleh tahu siapa yang akan berusaha mencari tasnym :') Keluarga ? Kawan ? Hmm . Kadang-kadang tasnym pernah terfikir bila tasnym takde nanti kawan yang mana la yang akan ziarah kubur tasnym , kawan yang mana la yang akan selalu doakan ketenangan tasnym dekat sana nanti :') tasnym nak tahu sangat sebab masa tu la baru kita tahu siapa kawan atau sahabat . masa tu la kita tahu kita ni penting atau tak dalam hidup dia .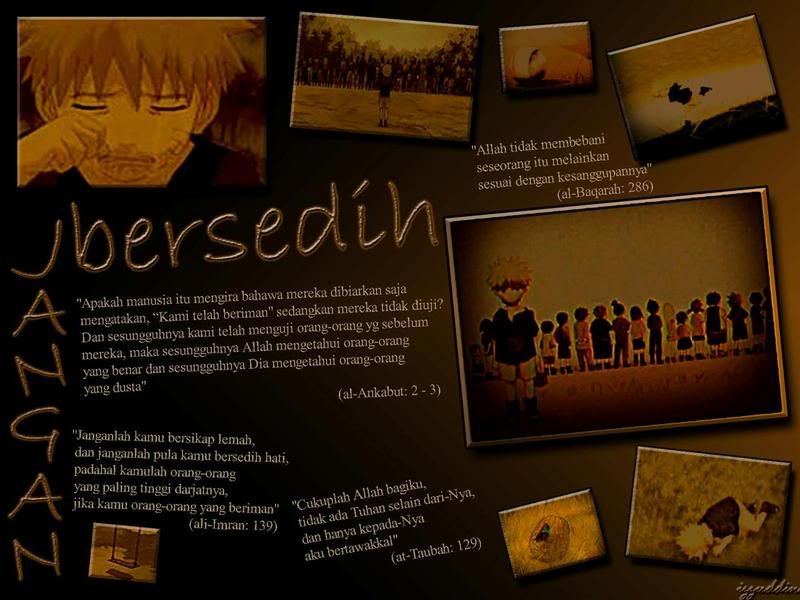 Dalam hidup sekarang , tasnym rasa tasnym lebih banyak terluka berbanding gembira . Tapi memang takde siapa pun yang tahu kecuali Allah . Banyak masalah yang tasnym kena hadapi . Kadang-kadang tasnym terfikir , kenapa tasnym diuji ? Kenapa ? . Tapi tasnym fikir positif , maybe Allah nak uji aku . Maybe Allah rindu rintihan hambaNya . Maybe Allah nak tahu sekuat mana keimanan aku . Tapi , tasnym tak kuat nak hadapi semua tu . Memang tak kuat . Selama ni tasnym hanya berpura-pura kuat :/
First time hari tu ada hamba Allah tasnym bagitau , kau ni berlagak je kuat , ganas . tapi , hati kau sensitif . kau mudah kesian dekat orang lain . kau tak pernah fikir perasaan kau . kau asyik nak jaga perasaan orang lain je . Tapi semua tu memang betul pon . Hehehe :') Yela , kadang-kadang kita kena jaga juga perasaan orang kan ? Sebab tu salah satu faktor yang mendorong kejayaan seseorang . Jaga hubungan dengan Allah dan Jaga hubungan dengan manusia .
Kadang-kadang ALLAH swt sembunyikan matahari, Dia datangkan petir & kilat, kita menangis & tertanya2 kemana hilangnya sinar tetapi rupa2nya ALLAH swt nak hadiahkan kita pelangi ;)

Hari-hari diteruskan seperti biasa. Kadang-kadang hidup memerlukan motivasi dari diri sendiri untuk memasakkan azam yang kadang-kadang cepat sangat unttk terpesong. Azam itu pernah suatu ketika membuatkan aku berkobar kobar untik berubah. Pernah juga azam itu membuatkan tasnym jadi kuat utk menepis pelbagai jenis ujian yang datang. Namun pernah juga azam itu jadi luntur dek kerana terlalu memikirkan keseronokkan dan kebahagiaan dunia. Ya Allah mohon Kau pasakkan sekukuhnya azam ini dalam diri agar hidayahMu masih mampu aku rasai. Hidup ini ada kalanya susah untuk memujuk hati. Bukan memujuk hati orang tetapi hati sendiri.


Mencintai dan dicintai. Fitrahnya, suatu kemestian buat seorang insan. Hadirnya perasaan ini mungkin di kala ketidakmatangan dalam menilai cinta yang sejati. Namun, saat hati sudah pulang kepada Tuhan, cinta itu kembali bertandang dan berbunga semula. Sape tak pernah rasa bercinta kan , kadang-kadang bercinta ni ada pasang surut jugak kan . Kadang-kadang kita gaduh , merajuk and so on. Hanya disebabkan kita gaduh dengan si dia , hati kita sakit kan . Macam-macam rasa datang time tu . Tapi lebih sakit kalau kita bercinta tapi hanya bertepuk sebelah tangan . Ohh ! So Sad ! .
Aku ibaratkan hati itu Macam sekeping kaca. Bila jatuh ke lantai Habis pecah, retak. Walau kau cuba lekatkan kembali Ia takkan sama lagi.
---
Aku rasa aku dah tawar hati. Berjuta kesakitan yang melanda diri aku. Cukuplah, aku tak sanggup lagi :')
---